Plants are one group of living being in the earth. There are so many plants that humans haven't even finished counting yet. Now you're going to learn the effective classification of plants according to their natural features and behaviors.
You can't classify 2 plants which are similar to each other, but you can easily classify plants which are not similar such as love grass, jak or coconut. There are plants in the oceans which are really long about 100m and plants in the land that have bigger circumferences such as 10m.
This means without a proper classification, things could go amazingly complex. That's where this natural classification method is suitable.
Natural Classification of Plants
Carolus Linnaeus (1707 – 1778) is the first scientist who presented a natural classification criteria for plants which have a wide variety around the world. He introduced his method in 1740s and at that time identified plant varieties were very few.
So, the initial classification of plants criteria by Carl wasn't perfect, but it made a bright mark.
Modern accepted mechanism for classification of plants were introduced after the Evolution Theory of Charles Darwin in 1859. Since Phylogeny is the key-factor of these classifications, it led to a good explanation of evolutionary relationships.
New natural classification of plants use the relationships among the plants. In order to identify the relationships of plants, we have to learn almost all the characteristics of plants. At that time, scientists didn't had a clear knowledge about sexual relationships of some plants.
That led them to classify plants that they knew had sexual relationships as Phanergamic Plants while the plants that they didn't knew – Lack of sexual relationship knowledge – exactly as Cryptogamic Plants. However, later scientists were able to reveal lot of information about sexual reproduction of Cryptogamic Plants too.
Stem, branches, leaves and the roots of a plant are identified as Vegetative Organs. Sexual organs of a plant are identified as Androecium and Gynoecium. A flower is a host for bunch of organs, hence we can design a perfect classification of plants as flowering plants and non-flowering plants.
Flowering Plants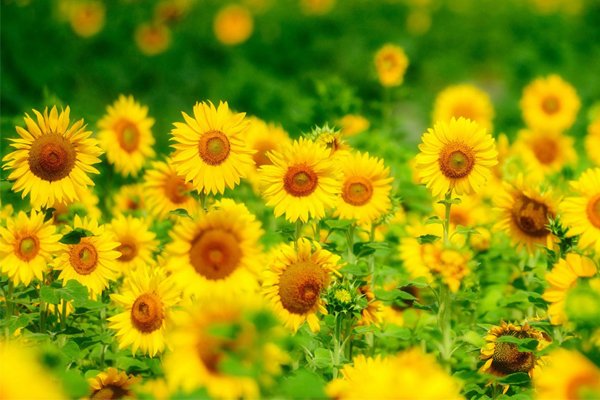 Who loves flowers? I hope you do. Flowers are a beautiful creation by the nature and we all love flowers to some extent. Flowering plants make the world smell better 😉
As you know, Flower is the reproductive organ of the plant. Flowers can be composite or simple. Anyway using flower as the classification criteria makes this a natural classification.
Flowering plants are also known as Angiosperms.
Angiosperms
There are many characteristics of Angiosperms as mentioned below.
Angiosperms are plants that have flowers and their reproduction is done by flowers.
All flowering plants produce seeds. and it is covered by a fruit.
Angiosperms have complicated flowers with complicated structure.
These are the most developed plants in the world.
There are 2 types of Angiosperms namely Dicotyledonous Plants and Monocotyledonous plants.
1. Dicotyledonous Plants
Dicotyledonous flowering plants are the widely expanded around the world. The seed of this type of plants have 2 cotyledons inside it. Also the root system has a long tap root. The leaves have webbed veins and the flowers have 5 or multiple of 5 petals.
Examples for Dicotyledonous plants
– Jak
– Mango
– Lemon
– Apple
– Tomato
2. Monocotyledonous Plants
Monocotyledonous flowering plants are very few when compared to dicotyledonous plants. These plants don't have a tap root system, but a fibrous root system. The seed has only 1 cotyledons and the veins of the leaves are parallel. Number of petals in the flowers are 3 or multiples of 3.
Examples for Monocotyledonous plants
– Coconut
– Wheat
– Palm
– Rice
– Garlic
Non-Flowering Plants
Non-flowering plants do have reproductive organs available in the flowers, but these are not complicated as Dicotyledonous flowers. We can further classify non-flowering plants as with seeds and without seeds.
Gymnosperms
Gymnosperms are plant with seeds and the embryo is inside a seed. The seed is not covered not not enclosed in a fruit. These are the less advanced type of seed plants.
Examples for Gymnosperms plants
– Yews
– Ginkgo
– Cycads
– Conifers
– Pine
Bryophyta
Bryophyta doesn't have seeds. There are so many species under this type and body of the plant may be a thallus. Sometimes they do have leaves. There are no true roots, but roots like structures available. These are also known as Rhizoids and grow on moist walls and ground.
Examples for Bryophyta plants
– Mosses
– Liverworts
– Hornworts
– Marchantia
– Poganatum
Pteridophyta – Ferns
Stem of these plants may be an underground rhizome or an Arial stem that grows straight. These have well developed Xylem and Phloem vascular tissues. The leaves have spores and also don't have seeds.
Examples for Pteridophyta plants
– Nephrolepis