Waves are one thing which holds a significant part in all the living organisms. There are plants and animals around you, and waves too. I explained how Carolus Linnaeus classified all living beings into 3 groups in an earlier post. Similarly, you can find many types of waves if you concentrate on this.
You have a hundred billion useful ability, you can see the world around you. That's because the light waves. No light waves mean a darker world, it's what you called night!
Then you can listen to mind-blowing songs, talk with your mom. All thanks to the sound waves around you. Perhaps, you have been exposed to flame of the gas cooker and felt the heat of it. Heat waves cause the heat which you felt at that moment.
Almost in all the homes, there's a cute radio and a thin television. These stuffs work because of radio waves and tv waves.
Past years everywhere of the world had to face the damn disaster, Tsunami. The cause for Tsunami is the water waves. Sunny weather is my favorite one. Those solar rays which are required for the process of photosynthesis are coming as light waves. Okay, humans have identified following waves so far,

Light waves
Water waves
Radio waves
Microwaves
Earth waves
UV Rays
Gamma Rays
X Rays
and many more!
How Waves Form?
Who likes to play on a swimming pool? I hope you do! 😉 Have you ever seen the waves on the surface of water in the pool? If you forgot to put some attention on it, fill a water bucket now. Then put a little stone to it. When the stone hits the water level, it makes the water particles vibrate. This is what you called as water waves.
Hold on baby! What exactly known as Vibration? What's it?
Vibration is the movement with a rhythm of an object from a fixed point to any direction. When you touch the surface of motionless water, the water particles would start to vibrate. This vibration spreads around the water as circular ripples.
Wave can be known as a periodic motion which flows from one place to another along a medium or a space.
In the definition of wave, it mentions a necessity of medium or space. Hence the medium of above circular ripple wave is the water. It's the medium of transmission.
I'm pretty sure you have seen metal springs found in spring pens. Remember that 'Tik Tak' sound? Take one and shake one end of it to create a disturbance. This can be seen best with a slinky due to the low tension of it. You can see the spring or slinky move forward and backward for a sometime.
Those are waves! Slinky or the spring is the propagation medium. Particles of the medium move periodically after a wave is flowing through a medium. Particles of the medium may move any direction forward, backward, upward or downward.
Did you knew water waves contain particles moving up and down.
Waves travel across the medium. Particles vibrating in 1 place transfers the energy to other particles. Therefore the energy is propagating from one place to another throughout the wave.
You can classify waves to 2 types according to the movement of particles and wave direction.
Transverse Waves
Longitudinal Waves
I'll explain what each of these wave types mean and their properties below.
Transverse Waves, What Are They?
Transverse waves show a particle vibration of perpendicular to the wave direction. You can easily observer transverse waves by shaking a slinky or rope perpendicular to its axis or by dropping a stone to motionless water.
Now as an example, let me use the stone dropping to still water. The stone which was dropped to the water created a disturbance. That resulted in a wave. Have you ever heard stones floating on water? I don't think so!
Stones cannot float on water due to its density and mass.
When stone goes down fast, it creates a Trough of the wave by dipping water particles. Then the newton's law of every action has an equal and opposite reaction occurs by water particles coming up again. That's where a Crest of a wave occurs.
You can notice a trough of the transverse waves transferred to a crest when the wave propagates. Yep! reverse of it too happen as a crest becomes a trough. So by creating alternate crests and troughs transverse waves propagate forward.
You want to see this trough and crest thing? Okay, fill a medium size large bucket with water. Create a nice paper boat 🙂 and keep it on the surface of water. Let things to be calm and once the water is still, create yourself a disturbance to that water. See what happens!
Paper boat moves up and down every time a wave is passed. Am I correct? That's due to the existence of trough and crest. However the boat isn't moving to the direction of wave.
Longitudinal Waves Explained …
Other type of waves moved perpendicular to the wave direction, but longitudinal waves show a particle movement of parallel to the direction of the wave. Slinky is the best thing to explain about waves and here we go with it again. When the slinky is vibrated from its axis, it shows a longitudinal wave.
Hacksaw blade and tuning forks are 2 other goodies to form a longitudinal wave in the air. As transverse waves consist of 2 parts, longitudinal waves also have 2 parts as Compressions and Rarefactions.
Compressions are the places where the air particles close together while the Rarefactions are the places where the air particles are spread out. If you observe a tuning fork's longitudinal wave, you may notice the compressed air gets spread out when the fork arms come closer.
Same as transverse waves, compression becomes a rarefaction after a little time and the reverse too. Air particles move forward since the elasticity property of air.
What Are Parts of a Wave?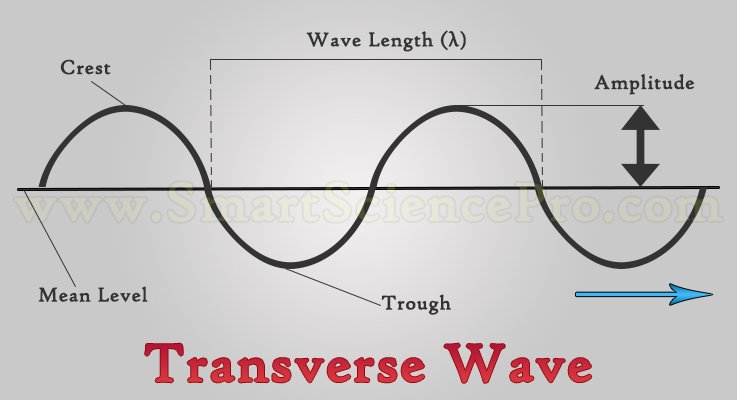 Humans and all living organisms are created with various body parts or organs such as eyes, nose, legs. Waves are also formed with few parts or things. In physics, mathematics is an essential for greater extent. With using these parts you can predict the height of a sea wave smarter than your friends who don't learn physics.
Wave consist of 4 parts as,
Wave length
Amplitude
Wave speed
Frequency
Look at the diagram for better understanding of these parts. I'll explain each item in detail.
Wave Length
Wave length is the distance between any particle to closest particle on same level of motion. It means a complete cycle of wave. Usually a wave is built up with collection of such cycles. Wave length got its own symbol to denote in mathematics operations.
Wave length → λ
International standard unit – SI Unit – for the wave length is m – Meters.
Amplitude
You can divide a straight line 2 parts and there is a center for that straight line. Similarly, a wave has a mean level too. Amplitude is the maximum height from the mean level of a wave. You know the songs you listen are just a bit of sound waves. Right?
If you can't hear a song well enough, you can boost the amplitude of the sound wave. Then the song would hear louder.
What if the amplitude is extremely high for a water wave coming from sea? It'd become a tsunami wave! This means a high amplitude means more power for the wave. Again the SI unit for amplitude is meters.
Frequency
You remember catching the favorite radio FM years ago? Every radio FM has its own frequency and that's what you're trying to catch. This means every wave has a frequency.
Frequency means the amount of vibrations or the cycles done by a particle in a second. The symbol of frequency is Hz because the standard unit for frequency is the Hertz. You need to use f when building the equation mentioned below.
Wave Speed
Wave speed is the distance traveled by the wave for 1 second. The symbol of the wave speed is V. Remember the speed the wave takes to complete one wave cycle is equal to the wave length. Suppose 'f' number of cycles are occurred in 1 second, then the distance in 1 second can be founded by following equation.
V = fλ
This equation for the speed of a wave. Using it you can find details about the destruction waves to find possible solutions.
Here's an example with above equation.
The wave length of a water wave coming from the sea is 2m. Its frequency is 800hz. Therefore the speed of this wave is as follows,

V = fλ
V = 2m x 800hz
V = 1600ms-1
What you think about waves around you? There are some fun facts and inspiring technologies with wave powers to build mind-blowing gadgets and they are stories for other times.
Let's share it with the world!