These days almost everybody uses electricity in their houses and work places. So having at least a basic understanding of domestic electric circuits would help you immensely. I thought to help you achieve that goal through this post. Okay, it's about most common electrical parts and components of house wiring circuits.
It is important to have a basic knowledge of these parts to make your life easier when it comes to using electricity the hassle-free way.
In countries such as Sri Lanka, India, Nigeria and many others have 230v basic electricity power supply to consumers from the national electricity grid which is an alternating current (AC) with a 50Hz frequency. However, the Voltage and Frequency can be different for other countries, for example United States has 120v electric power supply with a 60Hz frequency.
The electricity supply is given by a service cable consisting two wires known as Live wire (L) and Neutral wire (N) according to the Voltage & Frequency regulations of your country. Now let's focus on a few electrical parts often you can see in your home.
Basic Household Electrical Parts & Materials
1. Electric Meter
First in the list of common electrical parts you see everyday is the Electric meter. It is used by the national electricity grid to measure the units of electrical energy used in your household circuits. Yeah, that's how they find the amount you need to pay for your electricity bill per month.
Kilowatt hour (kWh) is an energy unit.
Suppose you have a 1000W electrical appliance in your house and you have to use this appliance for one hour everyday. Then the electrical energy consumed is one kilowatt-hour per day. Electric Meter calculate this consumed electric energy through the circular disc fixed in it.
When you use electricity, this circular disc starts to rotate which records the number of electrical energy units used by you. If you look closer inside the meter, you can see there are digits moving at the same time when the circular disc rotates.
Electricity grid company uses that meter readings to create your monthly electricity bill every 30 days or so.
1 kWh = Amount of Watt x Number of hours used / 1000
1 Unit = 1kWh
2. Fuse
A fuse is an electrical part which you can't see as it's always inside a plug or an electrical device such as TV.
Basically fuses are used to protect electrical appliances, parts and electronic components from potential damage due to a high current – Ampere – flowing in the circuit.
This electrical part is a small length thin wire created using lead and tin alloy. These days fuse wire is commonly seen in a glass tube for easy use. There are different fuse wires with the ability to conduct certain maximum currents such as 3A, 5A, 13A and 15A.
Yes, that's for the domestic electrical circuits, fuses for the commercial systems can go as high as 300,000A. When designing the circuit diagram the circuit designers use various symbols. Do you know which symbol represents a fuse?
It's this symbol ⏛ where you strike a small rectangle box that represent the electrical part protecting your electrical devices – Fuse!
Curious on how exactly a simple wire do the protection duty without the muscles?
When electrical current flows through the circuit exceeding the rated ampere value of the fuse, the thin wire melts down (fuses) thanks to heating effect of electric current and in return makes the closed-circuit an open-circuit. As you already guessed, open-circuits never flow electrical current, hence the current flow is cut down suddenly while protecting the appliance and other electrical parts & components.
In other words, fuse is kind of a superhero which saves the day by sacrificing itself for the greater good.
This is why when the fuse goes down, you need to replace same value and same size of fuse. This is also a safety rule. Want to know more electrical safety rules?
When a fuse goes down, it's gone forever. Since replacing fuses seem annoying, a new electrical part was created to avoid such complications.
This component is a miniature circuit breaker and it looks like a switch consisting various ampere values. Circuit breakers function similar to fuses. In the event of an exceeding current flow than the rated ampere value, the switch opens and stops the current, instead of melting anything or dying forever. The circuit can be connected again by closing the switch.
3. Distribution Box
Distribution box is another easy to notice electrical part in your home. It consists 3 more electrical parts, namely,
Main Switch (MCCB – Moulded Case Circuit Breaker)
Trip Switch (RCCB – Residual Current Circuit Breaker)
Circuit Breakers (CBs )
As the name implies, Distribution Box simply distributes the electric supply to sections of the house. These sections contain light circuits [Light Switches + Light Bulbs], fan circuits [Fan Regulator + Fan] and plug socket circuits.
In each of these circuits the Live Wire is connected to a circuit breaker which will be explained in a moment.
4. Main Switch (MCCB)
You know every house or commercial building has a distribution box which is where the Main Switch is located. It's the first electrical part receiving the electricity from the electric meter inside your house. Therefore the Main Switch is the responsible part to take down the electricity throughout the house as required.
Often useful while upgrading house wiring and when thundering & lightning to disconnect the supply.
There are 2 wires inside the cable coming from the electric meter namely Live Wire and Neutral Wire. These 2 wires are then connected to the Main Switch. While the main switch is OFF the electric supply is stopped by disconnecting the two wires.
Yes, you read it right.
Remember, current flows only when the circuit is closed, hence the current flows specifically when the Main Switch is ON. That's why you need to OFF the Main Switch to disconnect the power. Quite the other way around than the usual "switch on". Right?
5. Trip Switch (RCCB)
Remember the fuse I explained earlier? Just like a fuse, protecting people and electrical appliances is the primary goal of the Trip Switch, an electric switch designed to interrupt a circuit suddenly & automatically.
However, it's not a fuse, but a type of circuit breaker. This electrical part's common name is Trip Switch while the technical term is RCCB – Residual Current Circuit Breaker. Trip Switch is there to help you multiple times compared to a fuse.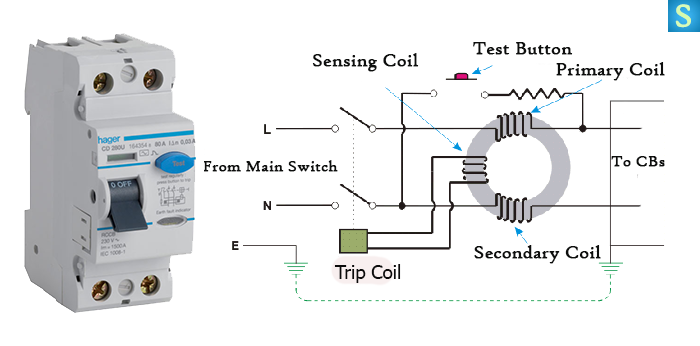 Electric current coming from the Main Switch connects to the Trip Switch via Live & Neutral Wires.
If there is a fault in any of the circuits in the house this switch opens (Trip) automatically and disconnects the power supply. For example, when someone gets electrocuted or when your house become a target of a lightning attack. Since the Trip Switch is so useful, it comes with a Test Button letting you check if it works as expected.
Working Principle of RCCB
Residual Current Circuit Breakers work by comparing the current entering the appliance via the live wire with the current leaving the appliance through the neutral wire. This difference in electrical current is called the residual current. RCCB Tripping current commonly 30mA (0.03A) or 100mA (0.1A), depending on the country it will change.
RCCB consists of,
Primary coil
Secondary coil
Trip coil
Always Primary coil and Secondary coil will sense the load current (IL and IN). When the circuit is OK the IL=IN, then trip coil will not get any current (IL-IN=0A) to energize the trip coil.
When the circuit Not OK the IL>IN, it means the trip coil will get some amount of current (IL-IN=3A). If IL-IN exceeding the RCCB tripping current, Trip coil energized and RCCB immediately trip.
It can happen due to a fault in the circuit Or when earth leakage current exceeds the value of tripping current of the RCCB.
6. Wall Switches
No wonder you have switched the switches thousands of times. Wall Switches are among the top consumed electrical parts list in any place that uses electricity.
Switches are used in light circuits and plug socket circuits to connect or disconnect the circuit according to the will of the individual.
There are different types of wall switches such as Push Button, Press Button, Toggle and Rocker while the latter is the universal light switch used on most houses these days. Then there are single, double, triple, quadruple as well as quintuple wall switches.
Electricians can attach multiple lights to a single switch as long as the current rating of the switch is not exceeded, for example all outdoor lights can be attached to a single switch letting you light up them at once easily.
7. Plug Sockets
Plug sockets are used to get electric supply for appliances like computers, electrical heaters, televisions, refrigerators and whatever electrical device you've been using.
Do you know that Plug Base is another name used to refer Plug Sockets? if you didn't, now you know!
There are plug sockets to get 5A, 13A or 15A current. Similar to wall switches, there are different types of Plug Sockets based on pin type such as two-pin plugs and three-pin plugs where the 3rd pin is for Earth Wire. To get these connections, electricians use two core wires and three core wires.
Plug Sockets come with a switch for extra protection, so you don't get electrocuted or harm your appliances while plugging. For safety, you need to OFF the switch before plugging any plugs.
8. Electrical Wires & Cables
Electrical wires are used to transport electric current, be that from electric meter to distribution box to power outlets (Plug sockets), all things  get the supply through various electrical wires.
There are 3 types of electrical wires,
Live Wire
Neutral Wire
Earth Wire
Each of the above wires contain different color codes depending on the country and in here Sri Lanka we have following wire color codes.
Wires with Red or Brown colors are used for live connections, so those are the Live Wires. Then the wires with Blue or Black colors are used for neutral connections, so they are the Neutral Wires. If you see a Green or Yellow-Green wire, remember they are used for earth connections, which means those are the Earth Wires.
Household circuits are designed by using various types of wires as explained above. Electrical cable is formed when all these 3 wires or at least the crucial 2 [Live & Neutral] wires are insulated with rubber or plastic cover. Here are more important details about electrical wires.
Wire Code
Area of cross section of the wire (mm2)
Rated Maximum Current (A)
Colors
Use Cases
1/1.13
1.0mm2
11A
Red Or Black
– Lamp Circuits
– 5A Plug Base Circuits
7/0.50
1.5mm2
15A
Red Or Black
– 15A Plug Base Circuits
7/0.85
4mm2
24A
Red Or Black
– Power cable from Electric Pole → Electric Meter → Distribution Box
7/1.04
6mm2
31A
Red Or Black
9. Two Way Switches
Two way switches are the last electrical part explained in this article. It's a bit different than the normal wall switches in terms of how it operates.
These switches are used to operate a light from two different places. Normal wall switches only has 2 connections, while Two Way switches got 3 connections.
Couple of ways Two Way switches are used,
When you need to ON and OFF a light bulb in a staircase from top as well as bottom.
To ON and OFF a light bulb outside your door, when you go out at night.
For example, in the 2nd instance, you ON the switch while you inside the house and then you lock the door once outside. Now you want to OFF the switch, how do you do that? Talk to Barry Allen to get the powers of going through matter? Nope!
You setup a Two Way switch outside the house and you OFF it there.
Wrapping Up The Common House Electric Circuit
Okay, this section wraps up how all the electrical parts explained above is used in the common house electric circuit.
It all starts with the place where the electricity is generated. Then the electricity is transmitted through high power service cables. In Sri Lanka, first level is 66,000 voltage, then it steps down to 33,000 voltage and then again to 11,000 voltage.
From the 11K voltage, Three-phase starts which is what you usually see in the road. It contains 3 Live Wires and 1 Neutral Wire. Three-phase is the reason why your house can face a power cut while some of the houses in your block or area don't.
Main wire coming from the electric pole first is connected to the electric meter in your house. From the electric meter the Main Wire is connected to the Main Switch and then through the Trip Switch to the Circuit Breakers in the Distribution Box. Circuits to various sections of the house starts from the Circuit Breakers.
Here's a common house wiring circuit.
Did you enjoy this article? It took me a while to create all the images such as the above house wiring circuit created with the electrical parts explained above. So, I'll be glad to have you share this article or images with your friends and students.